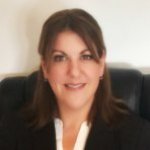 Tracey Thomas, Managing Director and Senior CV Consultant

After graduating with a BA(Hons) in Accountancy & Finance, Tracey spent several years working in executive-level recruitment for leading international search firms in London and Bristol. As Key Account Manager, she recruited at all levels for major financial services institutions, IT corporations, and global blue-chip telecommunications organisations.
Tracey joined Grieves Pryce Executive Resourcing and CV Services in 2000 and her successful career as a 'Headhunter', CV writer, and career counsellor within the business led to her appointment as Managing Director in 2005. She has extensive experience in advising and recruiting executives across all functions into a range of companies including VC-backed start-ups/SMEs, FTSE 250, and Fortune 500 organisations.
As the Founder of Grieves Pryce Executive CV Services, Tracey manages the day to day operation of the business, ensuring that the highest levels of quality and service are maintained; she also prides herself on developing high impact, interview-winning, executive-level CVs.
As a testimony to her success, Tracey has assisted over 2000 executives to date; guiding, harnessing talent, focussing on achievements, and ultimately securing interviews that lead to senior management or board level opportunities. Click the LinkedIn icon to join her professional network.
Schedule a time to discuss your requirements